Jun 08
The Avenue of the Fountains is home to some great shops and restaurants that have serviced Fountain Hills for many years, such as Sami's Fine Jewelry, Gridleys, and Chens Garden just to name a few. Newcomers like Sofrita and Overtime Sports Bar and Grill are now local favorites, both with outdoor patios to enjoy the views of the mountains, foothills, great sculpture and Fountain Park.
The Avenue of the Fountains is  a great venue for various events that go on in Fountain Hills. We have two "great fairs" where artists come from all over the country to show and sell their fine arts and crafts during the months of November and February. During the Christmas holidays the Avenue sparkles with Christmas lights. All the merchants get together and sponsor the annual "glow" with beautiful decorations, hot buttered rum and "real snow" that's brought in for kids that may see snow for the first time. During our winter season the Avenue hosts our local farmers market with fresh fruits, vegetables, homemade pies, cakes, honey and other savory items.
If you haven't had a chance to visit the Avenue of the Fountains in Fountain Hills, perhaps I can entice you to put it on your calendar with this video.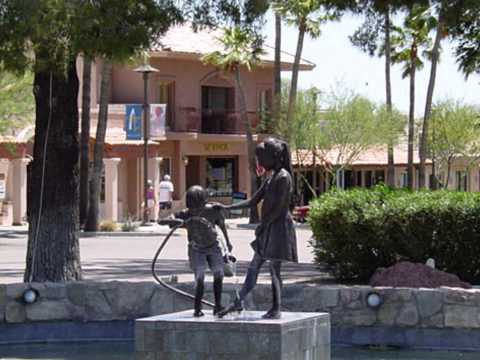 RSS Feed
Live Where Others Vacation
Fountain Park . . There's Nothing Else Like It
The "Charm" of The Avenue of The Fountains
Recent Posts