Jan 18
Back To School
Last Thursday I went on a tour with other local Realtors® of our Fountain Hills Unified School District Schools. I have to tell you it has been many years since I have had a reason to go and visit an elementary school let alone a high school. My kids are fully grown with kids of their own and live out of state.
As a local Realtor® here in Fountain Hills, I am aware where our schools are, I had some basic information about school ratings, class size etc. but to be honest that's where it ends. We were very fortunate to have our tour conducted by the Superintendent of FHUSD Dr. Bill Myhr.
It did not take long for me to see how much he loves his job and how proud he is of the Fountain Hills Schools, his staff, the teachers and his students. It also didn't take long for me to wish I could go back to school all over again.
McDowell Elementary School and the iTouch
Our first stop was at McDowell Elementary School.  After a warm welcome we were invited to visit a 2nd grade classroom.
To my amazement these 7 year olds were doing math on their I-touches utilizing a flashcard app called "Rocket Math".   There is also an app for reading lessons where the kids put on headphones and use a microphone to read.
They can play it back to hear how they sound and their teacher can also access it on her computer during a quiet time to assess how a student is doing and create a special curriculum for a student if the need arises.  The new I-Touches are now being used in grades 2-5.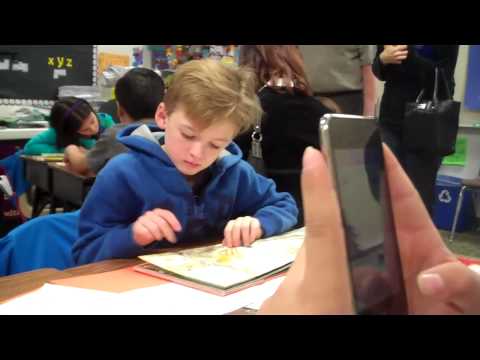 Fountain Hills Middle School and the NoodleBib
Our second school on the tour was Fountain Hills Middle School, grades 6-8. Our tour guides were members of the student council.
What grabbed my attention was the 36 computers in the library and a smart board. Smart boards provide ways to show students any thing which can be presented on a computer's desktop (educational software, web sites, and others).
In addition, interactive smart boards allow teachers to record their instruction and post the material for review by students at a later time.
They use programs like NoodleBib that helps students with research, collaborate with a team or share results with a teacher. There was something about a resource called "Galileo".
At this point my head was whirling, and it wasn't that I felt ignorant or stupid, but "obsolete" definitely came to mind.
Fountain Hills High School with the Falcons
The last school we visited was Fountain Hills High School, home of our proud Falcons.
This is not your typical two or three building high school. The campus setting is a collection of 16 buildings, with 32 classrooms for high school.
High achievement standards have been set and the curriculum includes English, mathematics, science, social studies, physical education, foreign languages, fine arts and practical arts. High school students may enroll in advanced placement classes or dual enrollment classes for college credit as well as vocational preparation classes through the East Valley Institute of Technology (EVIT).
Joint-use buildings house art, business, language, life sciences and economics departments, as well as computer and technology labs, a library, a music building, a lecture hall, a cafeteria and two separate gymnasiums.
In addition there is a top rated nationally recognized baseball field on campus. High school students have access to state-of-the-art computer technology; the library's card catalog system is computerized; and special opportunities are offered in the alternative education program. A Bio-Technology Lab and a Video Productions unit bring state-of- the-art experiences to students.
I Am Proud Of The Fountain Hills School District and Their Achievments
What can I say this tour was totally enlightening.
We have incredible schools in Fountain Hills that we can all be proud of.  Parents out there, rest assured your kids are getting a great education and we are very fortunate to have the latest and the greatest technology to facilitate that process.
If you have a child going to one of these schools or know about other achievements that come out of these programs, I would love you to share.  Leave a comment below.
RSS Feed
Live Where Others Vacation
Fountain Park . . There's Nothing Else Like It
The "Charm" of The Avenue of The Fountains
Recent Posts